Animals: Ringtones
17.3
A Fun and Diverse Animal Ringtones App
Ringtones were a very popular feature of mobile phones for quiet sometime especially during their early days. People used to spend money to get small ringtones and very fond of telling each other about their phone ringtones too. Mobile manufacturers usually also advertised about the diverse range of ringtones that come pre-installed on their phones. With time, the craze for ringtones died down with the availability of every type of sound on Earth as a ringtone essentially meaning there was no novelty aspect left. Ringtones still have a role to play though and users who want to associate different contacts with different ringtones or want unique sounds for their alarm ringtones can get a lot of help from ringtones app. A great app in this category is the animal ringtones app called Animals: Ringtones. The app has a superb collection of animal sounds that have been packaged as ringtones for easier consumption on your phone.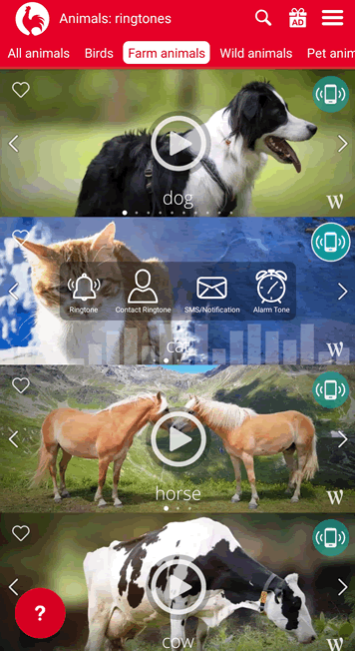 The thing that stands out about the animal ringtones app is that it has the most user-intuitive layout. Most ringtones app overdo it with a lot of colors and a lot of glitter but the animal ringtones app keeps it simple yet stylish to impress right from the start. The app's layout has been designed keeping in mind that the users will need to navigate through different ringtones and therefore, the layout is easy to navigate with multiple tabs segregating animal ringtones by animal type.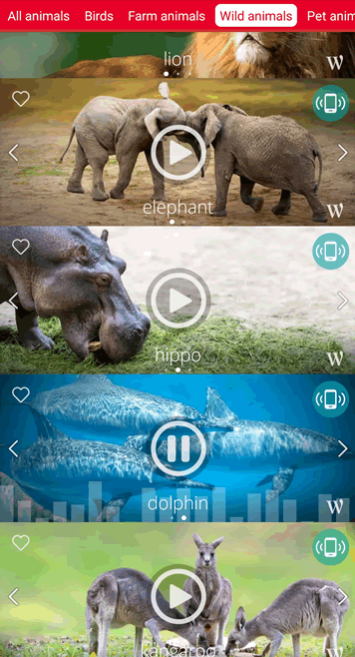 The other thing that stands out about the animal ringtones app other than its vast collection of animal sounds is the simplicity with which the ringtones can be assigned as per the user's requirement. A simple tap on the button at the right of the ringtone would allow you to decide whether you want to assign the sound to a particular contact or want it as your main ringtone or want it as your message tone or want it as your default alarm tone. Everything can be done with a simple touch of a button. This is really the feature that helps the animal ringtones app stand out from its competition.
The ringtones app obviously contains such a huge library of animal sounds that you will get exhausted while browsing through each sound. For simplicity's sake, the app developers have divided the sounds into nine different categories namely Birds, Farm Animals, Wild Animals, Pet animals, Mammals, Reptiles and Amphibians, Insects, Land Animals and Water Animals. Obviously, some animals feature in multiple categories but the categories have been defined for easier navigation and they serve the purpose quiet well.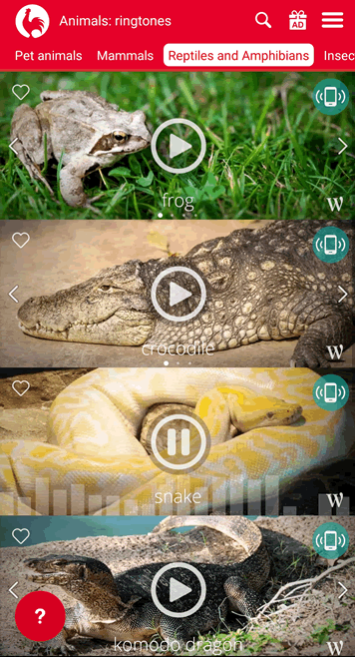 There are multiple sounds available for each animal and this is great as you won't be left with a single sound for each animal type. The sounds also feel different so that there is considerable change if you switch from one sound to the next. To make your life easier, the app developers have also displayed a picture of the animal whose sound is being represented so that you get clarity too. Lastly, the animal ringtones app even offers you educational guidance by showing you the Wikipedia page of the animal whose sound you are listening.
Features:
Excellent app layout that is easy to navigate
Nine unique and wonderful animal categories
Easy to set any sound as your main ringtone, your message tone, your contact tone or your alarm tone
Great Wikipedia link for each animal associated with their sounds
Easy to reset the phone's default ringtones if you don't like the animal ringtones
Conclusion:
Animals: Ringtones is a fantastic and very well-designed animal ringtones app. With 100+ ringtones, 9 different categories and easy to set sounds as your preferred ringtones, you would do well to choose this app if you want to refresh your phone's ringtones.
RELATED PROGRAMS
Our Recommendations
---
---
---
---